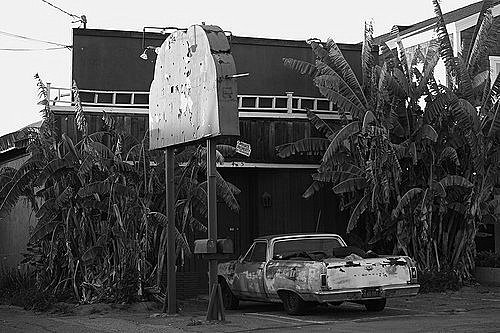 D

on't

T

ell

N

obody
I lifted this saying from legendary Newport Beach restaurateur, and civic pain in-the-ass Sid Soffer. The sign that hung inside his abandon warehouse turned secret, locals-only steak house read: "Welcome To Sid's...Don't Tell NOBODY!" Sid was famous in this affluent beach-front community for serving up great food and stiff cocktails at a good price, in an authentic setting with TONS of attitude. He ran
Sid's Blue Beet
for years before going "underground" at his place on
Newport Blvd
.
Sid's battles with the City Council were of epic proportion. He once was voted to the coveted
100 most Influential People in Newport Beach
list. The story goes, he was bestowed this honor in order to aid in his apprehension. Seems his feud with a local judge (also on the list) had evolved into a bench warrant that authorities were having a tough time serving. Always the outlaw, my boy Sid skipped the gala event in order to relocate to Las Vegas! I was lucky enough to spend time with him in Newport and in Vegas. His love of obscure blues music, as well as his disdain for power-tripping politicians inspires me to this day. I'm told that Sid has joined his friend Evel Knievel at that great Vegas lounge in the sky. My heart goes out to their bartender, yet I hope to take his place someday!
The
DTN
section features some of my favorite local escapes, so please...
DON'T TELL NOBODY
!